Business Operations Careers
THANK YOU FOR YOUR INTEREST IN A CAREER IN BUSINESS OPERATIONS WITH BUTLER MACHINERY

Our business continues to grow so we need marketers, technology experts, financial advisors and more to help us succeed. If you value great relationships with your fellow co-workers, are driven to take care of customer needs, strive for excellence every day, have high levels of integrity and accountability, and focus on safety in everything you do, Butler could be the right employer for you to grow your career. Whether your focus is marketing, human resources or finance and accounting we have a variety of positions open across our 20 store locations and we're excited to talk with you about your future at Butler!

VIEW OPEN POSITIONS & APPLY ONLINE
Who we are
Butler was founded in 1955.
We are a third-generation, family-owned company with over 800 associates in 20 locations across North Dakota, South Dakota, Nebraska, and Montana. We are proud to support our customers from a variety of industries including construction, agriculture, government, demolition and scrap handling, mining, landscaping, and power generation. We sell and service equipment from manufacturers such as Caterpillar (ND & SD), AGCO, CLAAS, Drago, Horsch, Trail King and more.
The ideal teammate

We are seeking self-motivated and diligent individuals who can thrive in a team environment and have strong customer service skills to join our expanding team! Across our 20 store locations, we prioritize building long-term relationships founded on trust every single day. The missions of Butler serve as the foundation for the success of our employees and customers alike. If you desire to be part of an organization that prioritizes the well-being of both its customers and employees, seize the opportunity to join the growing Butler family today!
Grow your career

The future success of Butler Machinery depends on the capabilities of individuals who believe in our company's mission and values and are hungry to take their careers to the next level. Butler is looking for potential team members with strong characteristics of integrity, accountability, and ambition to join our team. Meet new people, build relationships, and grow your career with us, a premier equipment dealer.

Whether you're looking to get started in a career, or are simply ready for a new challenge, we want to hear from you! Butler offers a wide range of industry-leading benefits that fit our employees day-to-day and future needs. Click the button below to learn about our benefits package.

Benefits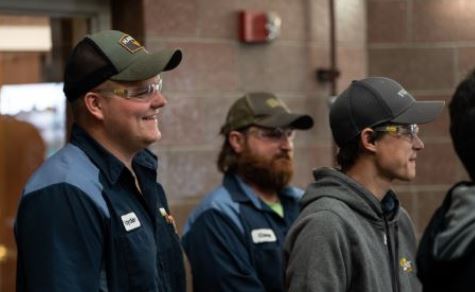 Join our growing team

Check out our open positions and get started today with our online application process. If you have any questions about a sales career at Butler, or have any trouble with the application process, please email HR@butlermachinery.com or give us a call directly at (701) 298-1708.

Join our team