EARN REWARDS ON PARTS & SERVICE, CVAS, REBUILDS AND MORE WITH THE CAT CARD

APPLY FOR YOUR CAT CARD TODAY

YES, I WANT TO APPLY
WHAT IS THE CAT CARD?
The Cat Card is a revolving line of credit that can be used at participating Cat dealers and rental stores to pay for parts, services, rentals and more. It's an easy way to get what you need fast, no matter where your work takes you.
For example, if you work in a seasonal industry, there may be times during the year when it's challenging to make a full payment on an equipment rental, a machine repair or something else you need to keep your business going. With a revolving line of credit like the Cat Card, you can make low monthly payments when necessary, then pay in full when your finances allow. That flexibility helps your company make purchasing decisions and manage the financial obligations related to them more effectively.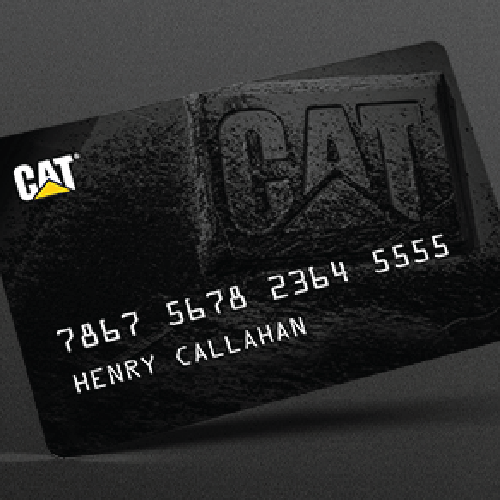 IT PAYS TO PUT IT ON YOUR CAT CARD.

No annual fee, document fees or prepayment penalty
1% CAT Card Rewards
Special Offers
Dedicated Caterpillar Service

YES, I WANT TO APPLY
DISCOVER ALL THE WAYS YOU CAN EARN AND SPEND CAT CARD REWARDS.

The Cat Card is the smart way to get what you need to get the job done. Buy parts and pay for service. Purchase engines, work tools and attachments. Pay for a repair or rebuild. Rent equipment. Need extended protection or a Customer Value Agreement? You can put those on your Cat Card too.

Cat Card is accepted at all Cat dealerships in the U.S. and Canada, and you can also use it to shop on Parts.Cat.Com.

Ready to learn more? Get the details on how to earn, redeem and spend Cat Card Rewards.

SHOW ME HOW I CAN EARN OR SPEND REWARDS
Want more information about Cat Card rewards terms, conditions and eligibility? LEARN MORE